Hosted by: Thorsten Overgaard
June 28th, 29th and 30th, 2018
Chicago, IL
The three-day Overgaard Photo Seminar & Advanced Workshop in Chicago is limited to 10 participants.
The seminar has its base in central Chicago.
It is a combination of the Overgaard Photo Seminar and the Overgaard Advanced Workshop tailored to bring you up to an advanced level on using your camera equipment, setting up a workflow on your computer, editing and presenting images, and shooting different assignments.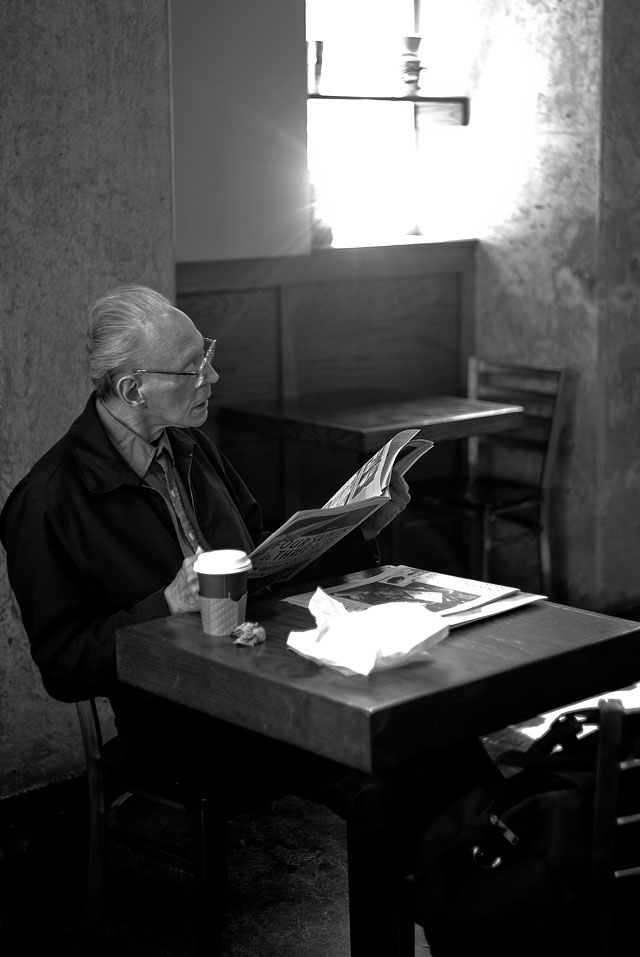 A photo from a cafe in San Francisco July 2011. © 2011-2016 Thorsten Overgaard.
What to bring
Camera(s), lenses and a computer with Lightroom installed for editing of photos. For the walkabout day we will select a minimum of equipment and wear comfortable walking shoes.
The second day you will need a computer with Lightroom (or Capture One) installed (30 day trial is available) to set up a workflow, get your screen calibrated and edit the photos we did on the walkabout the first day. The third day will be a combined day where we go shoot portrait, model and then finalize the workshop photos on the computers before we end off.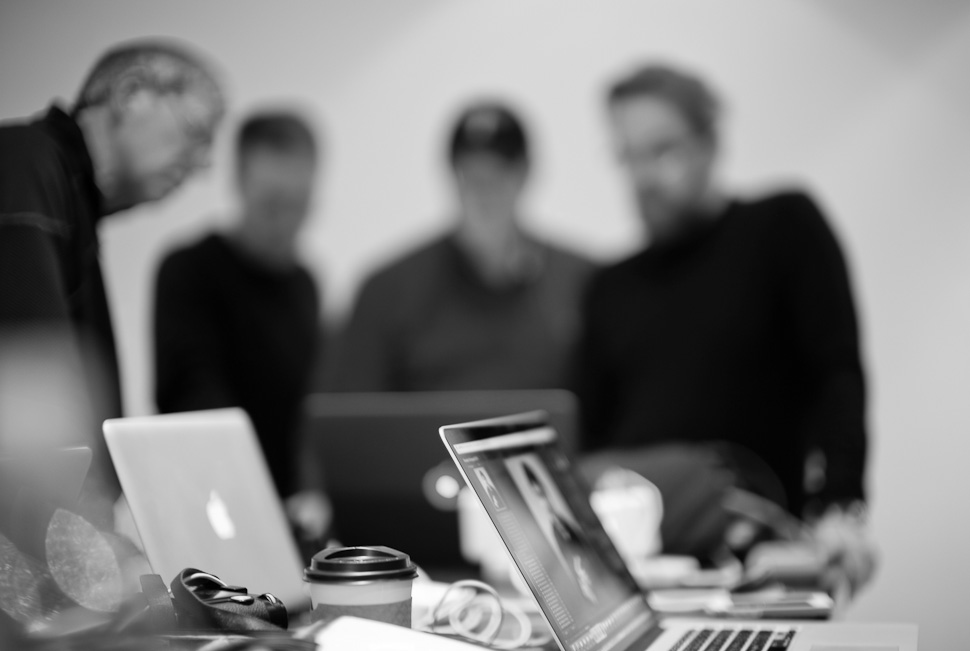 The Thorsten Overgaard workshop editing. Photo by Joy Villa
What to expect
You will meet like-minded people who want to improve their photography. 80%-100% will be Leica users, and if you are not, be prepared to become one. And if you are, be prepared to want more.
The seminar is very informal and hands-on. You will be able to ask all the questions you like.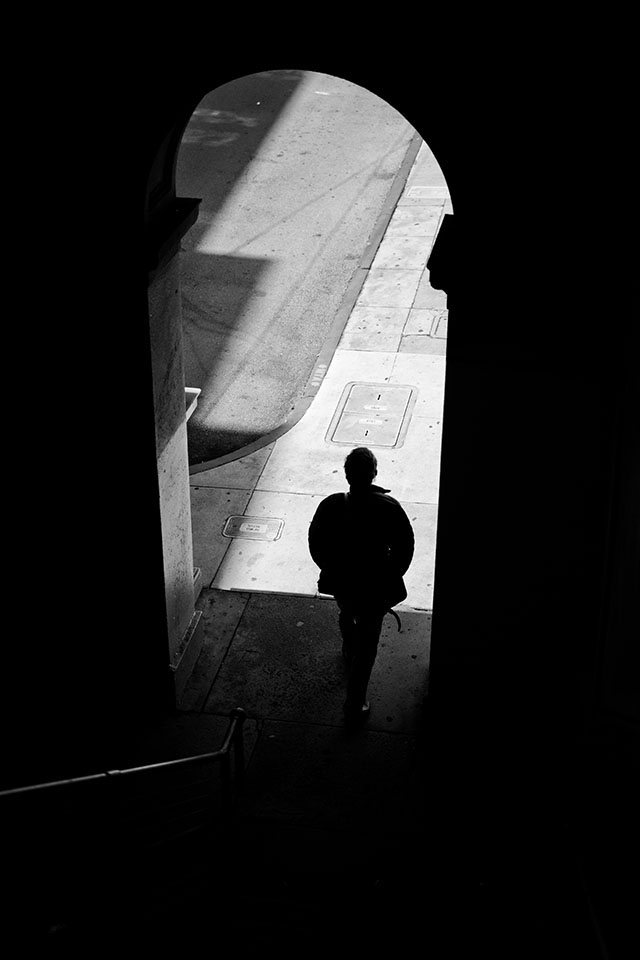 Stockton Street, San Francisco. © 2014-2016 Thorsten von Overgaard.
| | | |
| --- | --- | --- |
| | | |
| | "It has taken me a while to digest what I learned at the seminar. I have to say, you made me change my way of taking pictures. Even weeks later I recall the one or another snippet of information. There was a lot for me to go through." | |
| | – H. C. (Australia) | |
What we will deal with
People, light, cityscapes, street photography, portraits, how to handle people, timing, composition, your goal as a photographer, color control, messages in photographs, your unique talents and skills, how to set up a digital workflow, what to look for when editing, color management, speed of work, white balance, exposure, reflectors, quality of light, finding the right locations and how to share and present your photographs.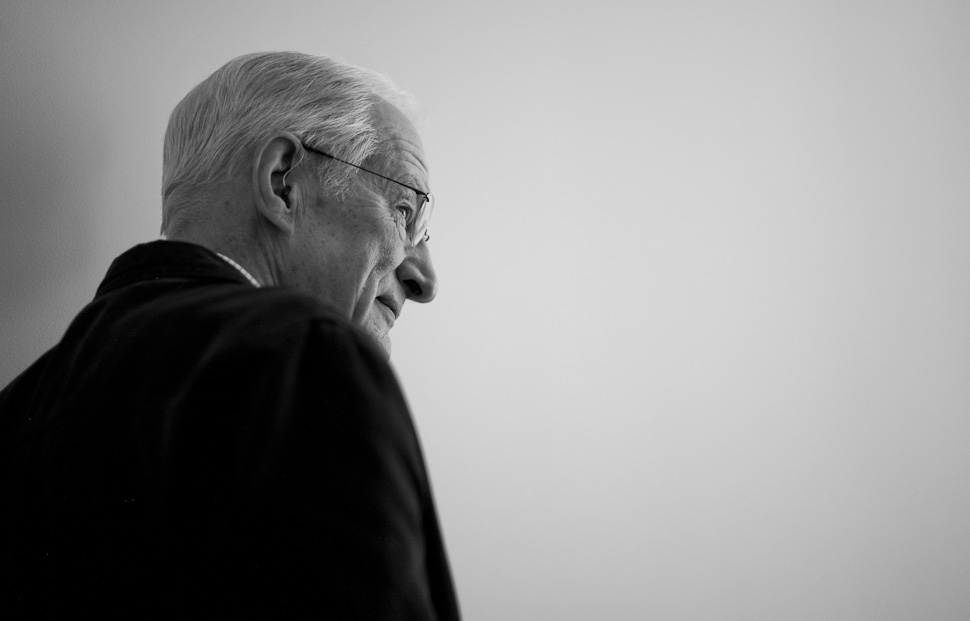 Mr. John Hayes. Portraits of the students from the Overgaard Workshop. © 2014-2016 Thorsten von Overgaard.
End result
You can expect to get a relaxed and simplified view on photography and realize that this is something you can perform well, enjoy and produce much more than you used to.
You will walk out from this seminar taller and more confident.
No matter their skill level and experience, what participants in a Thorsten Overgaard Workshop experience is that they photograph a lot more after the workshop.
| | | |
| --- | --- | --- |
| | | |
| | "It's really changed my perception on photography and technique as a whole." | |
| | – B. L. (Singapore) | |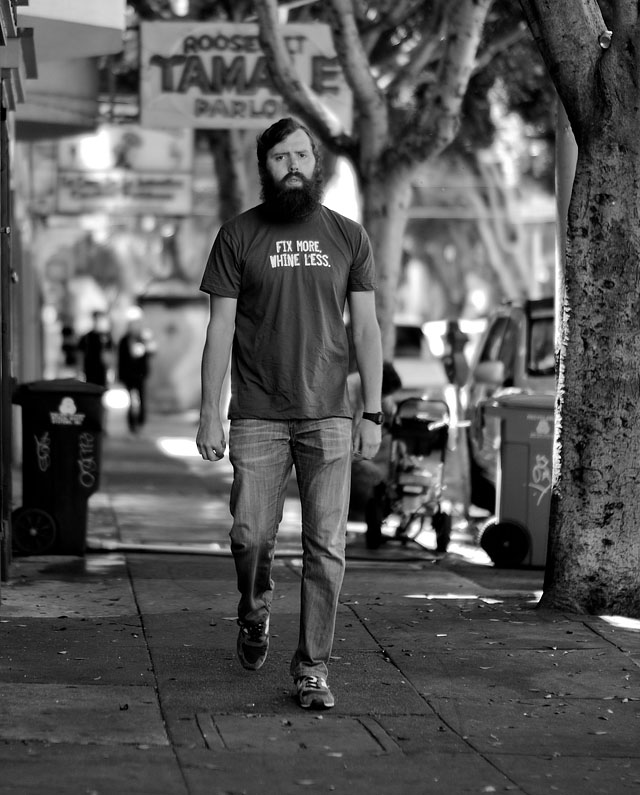 "Fix More, Whine Less" does this t-shirt say on 24th Street in San Francisco.
"Just a short note to say how much I enjoyed your seminar this past weekend.

You were able to clear up most of my photography questions and give me a
great deal of other things to think about in image capture and techniques.
Confidence in color was the real treat of the weekend".

– A. C. J. (USA)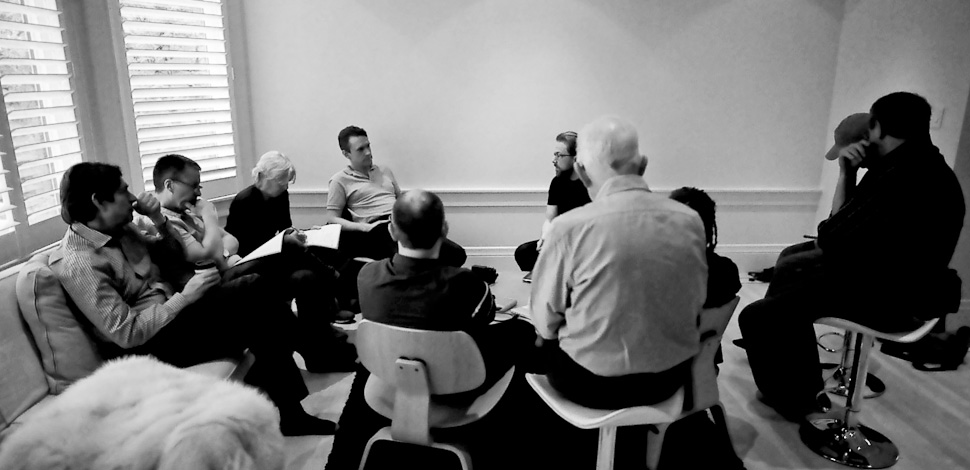 Thorsten going over the workflow theory (how to archive and manage thousands of photos, backup, keywords, etc).
| | | |
| --- | --- | --- |
| | | |
| | "Thanks again for a fantastic workshop in Montreal – it was a highlight of my summer". | |
| | – A. S. (USA) | |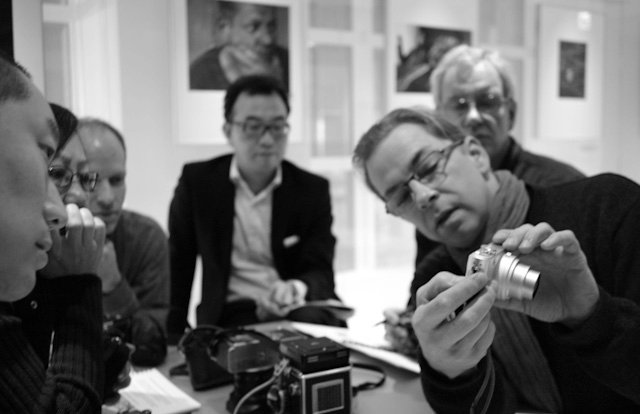 Thorsten explaining about small cameras at the seminar in Leica Gallery Tokyo in January 2011. Photo by Pieter Franken.
A three-day photography workshop
Day 1: (10:00 AM – 5:00 PM)
We go out as a group on a day-long walkabout. It's casual and fun. You have an overall assignment of producing three images to present to the group from this day, but the style is relaxed and we simply take a seven-hour walk with coffee breaks, lunch and lots of talking.
We will be looking for different light conditions and we'll work with many different situations, light conditions, compositions and people during this day.
Keywords Day 1:
Inspiration. Questions and answers, hands-on, networking, equipment, White Balancing, light meters, understanding cameras, ISO, aperture, strangers and people, street photography, architecture, finding the right light, natural photography, available light, aesthetics, focusing, correct exposure, timing, Neutral Density filters … and lots of coffee.
"It was a pleasure to work and play with all of you for the last four days or so.
A great experience I won't soon forget. Now I have 11 new friends from round the world.
I'll make sure to let you know if I'm in your neck of the woods in the future …Many thanks to Joy for dressing up and posing out in the hot sun for our photo shoot.
I'm sure it wasn't easy! Very much appreciated!And of course many thanks to Thorsten for being so patient and working through the details of being an excellent Leica photographer … Searching out the light and introducing us to his efficient workflow processing procedure over the last four days.  

I will/am approaching my photography in a much different light now compared to my photography life prior to the course. Awesome! Talk soon".

– A. R. (USA)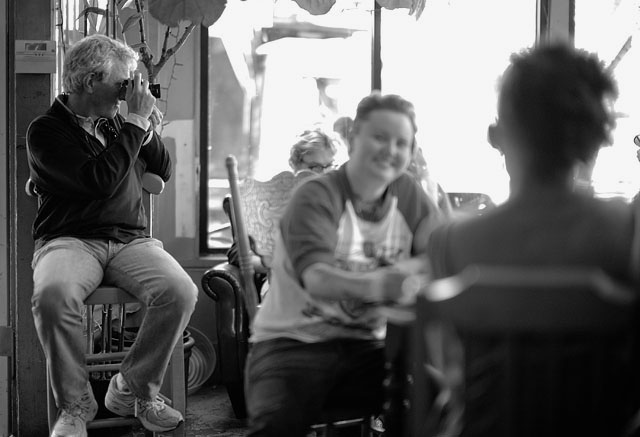 Richard having coffee and photographing from a well-selected spot.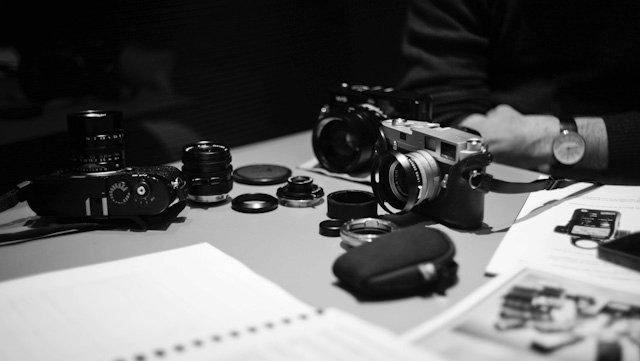 One wouldn't be able to imagine all the equipment a handful of photographers can bring together. Photo by Pieter Franken.
"Thanks to everyone for making this a thoroughly enjoyable workshop
– very atypical from those that I've taken in the past.Thorsten, the way you've mixed the practical (technical) and the craftsmanship of making a good image with arguably the best tools out there left me with very actionable takeaways.Thorsten and Joy – thank you for being wonderful gracious hosts and I hope our paths will cross again.  Best to all … keep looking at your hand for the good light".
– D. C. (USA)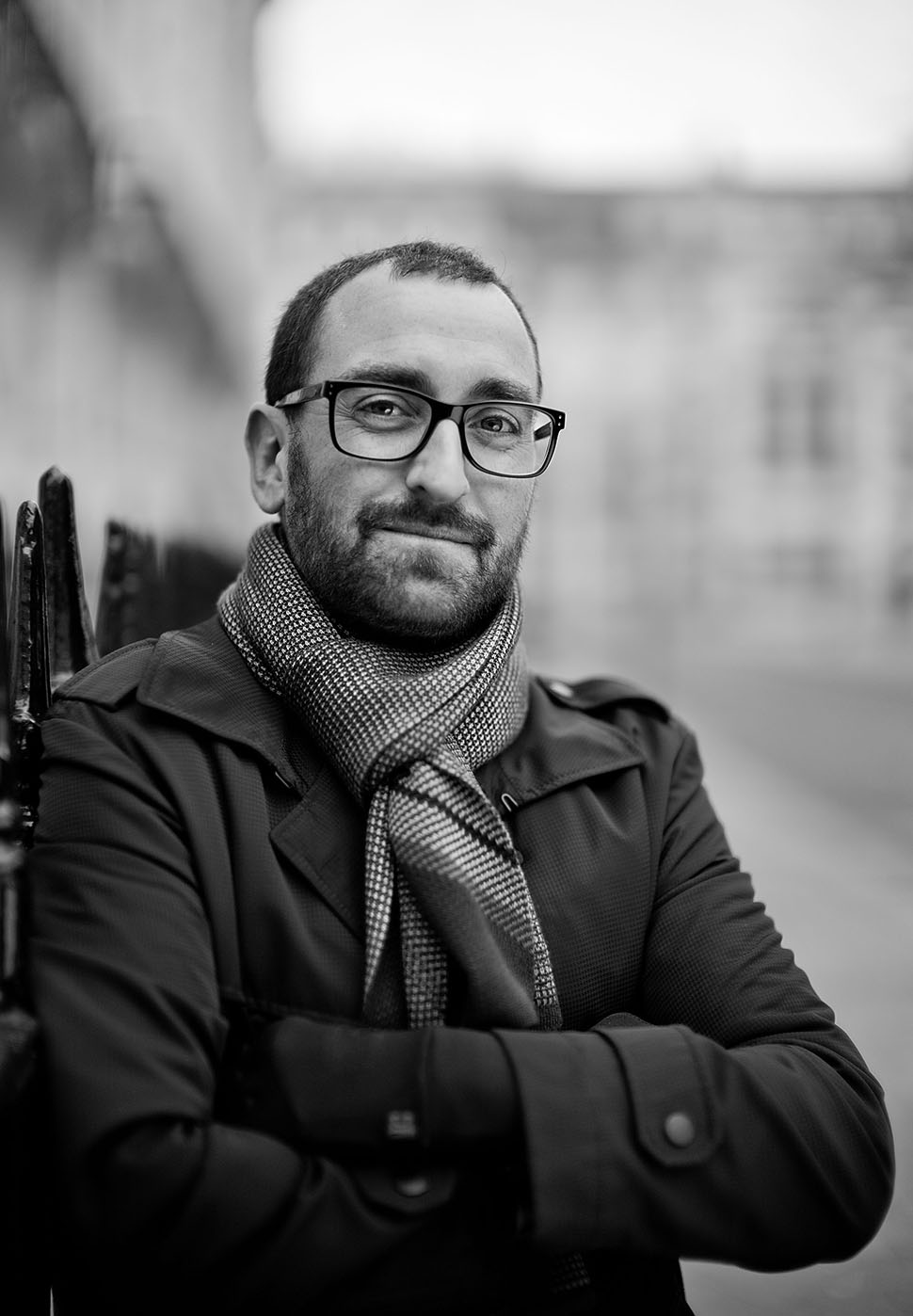 Portrait photography. British composer and producer Barrie Gledden at the London Workshop January 2013 as the portrait subject. © 2013 Thorsten Overgaard. © 2013-2016 Thorsten Overgaard.
"Here I am, back in Argentina. I've been thinking about the workshop we attended
in New York City the last several days, and I'm still thinking about it. Thorsten's job was very professional and complete. And the style he suggested fitted exactly with my way of thinking photography: Search for the light, then search for the subject. The use of Leica lenses wide open (with the help of ND filters) – Oh! – the terrific photographs really explode in my computer. Thank you Thorsten, Joy and all of you!

Those four days will be unforgettable to me".

– A. B. (Argentina)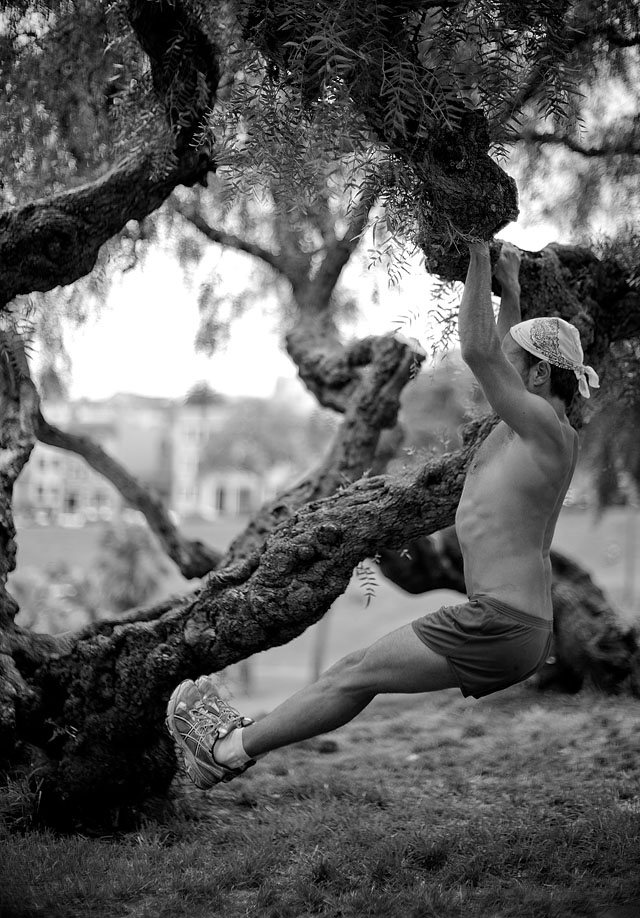 A fanatic runner performs a few athletic routines in a park in San Francisco. © 2013-2016 Thorsten Overgaard.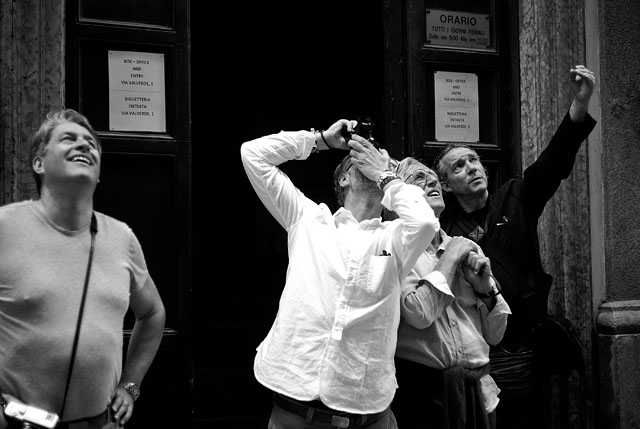 Michael, Hans, Friedl and Oskar at work in the streets of Palermo. We walk around and work as a group.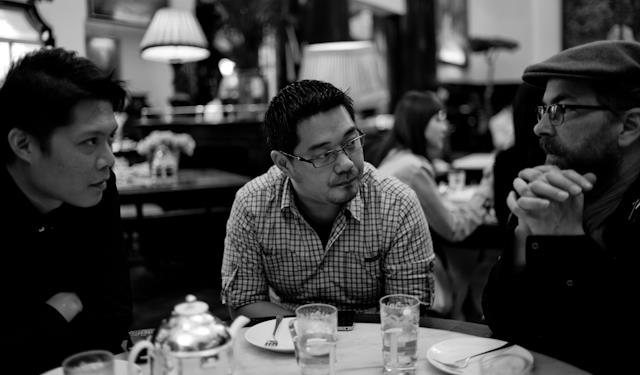 We will be spending 20-25 hours together doing formal seminar, walking about, working on images, having coffee and lunch. Lots of things to talk about. Photo by Younes Kabbaj from the Hong Kong seminar.
"Simple the best – I learnt a lot from you at the Photo Seminar.
It was great to spend a lot of time with you and your experience.I am still deeply impressed and these were very memorable days for me.
I highly recommend Thorsten's photo seminar to anyone.
Now it is time for my homework!"
– T.S. (Zurich

)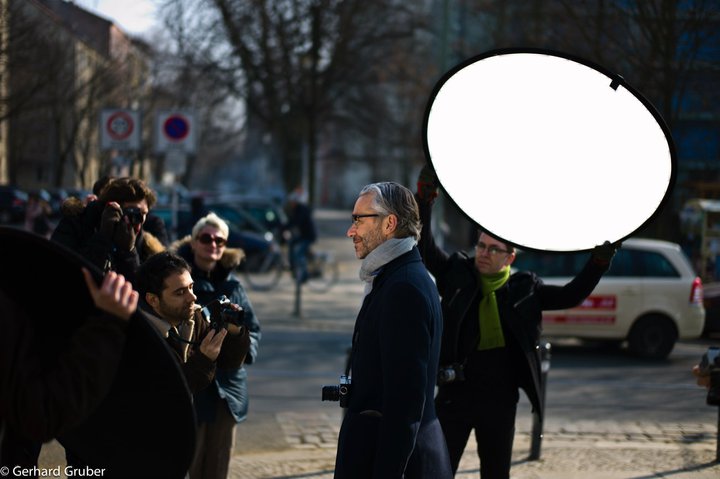 Doing portrait photography on location in Berlin, February 2011. Photo by Gerhard Gruber.
Day 2: (10:00 AM- 5:00 PM)
We meet in the morning and start with workflow theory. How do you set up computers, hard drives, backup, color management, systems to archive and search for the images when you need them. There's lot to take in and understand this morning. After lunch we set up each computer and then import the photos we did on the walkabout day, and then we edit photos in Lightroom.
We select the best and do reviews as a group before we call it a day.
Keywords Day 2:
Lightroom editing, DAM/Digital Asset Management, backup, cloud services, software, workflow, job numbers, photo archive, keywords, sharing, prints, exhibitions and photo critique.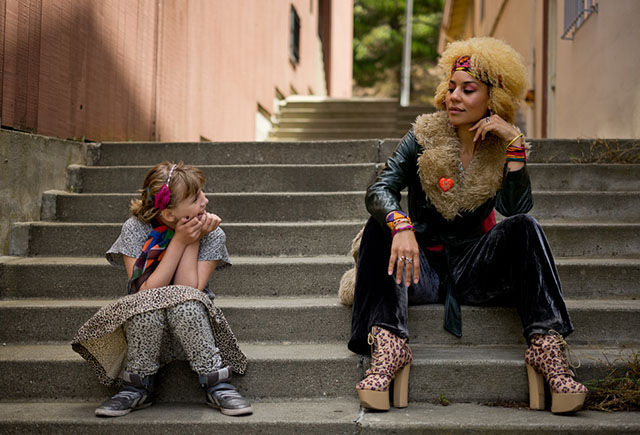 San Francisco model shoot with my daughter Robin Isabella von Overgaard and Joy Villa. Leica M 240 with Leica 50mm APO-Summicron-M ASPH f/2.0. © 2014-2016 Thorsten Overgaard.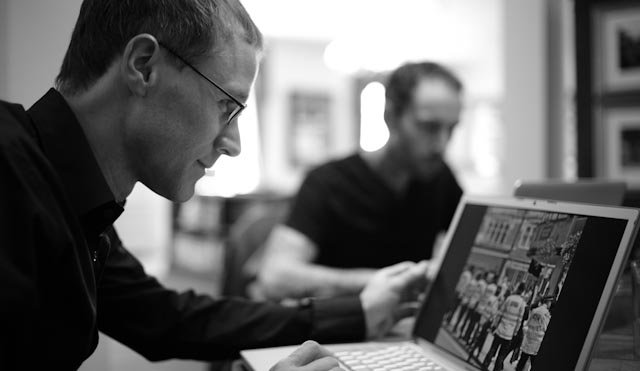 Swiss photographer Matthias Frei editing in London. © 2011-2016 Thorsten Overgaard.
| | | |
| --- | --- | --- |
| | | |
| | "Thanks so much for an inspiring weekend. I learned a lot, and it was a great group of people to spend the weekend with. I hope to see you again soon, either in NY or somewhere else". | |
| | – D.G., New York | |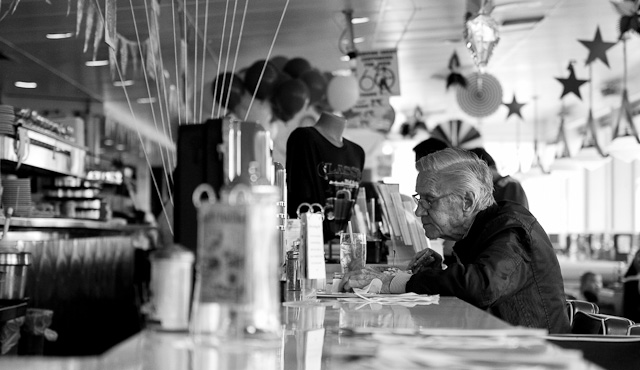 4th of July in America. Inside Mel's Diner in San Francisco. Leica M 240 with Leica 50mm Noctilux-M ASPH f/0.95. © 2014-2016 Thorsten Overgaard.
Day 3: (10:00 AM – 5:00 PM)
This is the final day after we have finished learning the theory, done some photography and reviewed some of our photographs. This day we are busy doing portraits, model shoot and refining our techniques – and then we have to hurry back and edit the images, filling any holes we would like to find out more about, and then wrapping before we end off at 5:00PM.
No homework. We are done when we are done.
Keywords Day 3:
Reflectors, portrait photography, model photography, white balance, light reflections, types of light, light temperature, external light meters, finding a location for portrait photography, final assignment. Getting it all right. Finishing every image and archiving. Publishing and sharing one's work.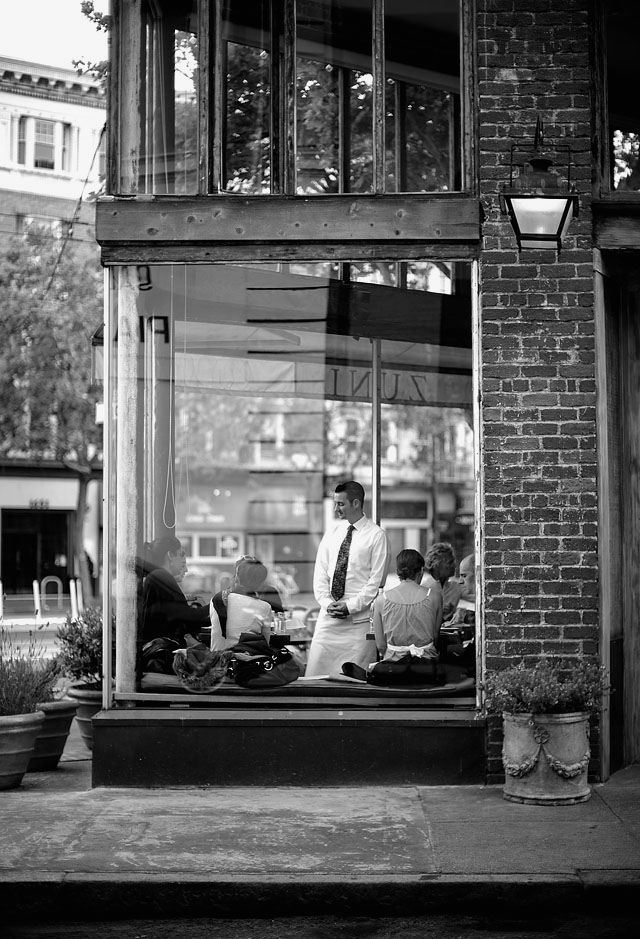 Zuni Cafe on Market Street in San Francisco. Leica M9 with Leica 50mm Noctilux-M f/1.0. © 2011-2016 Thorsten Overgaard.
"I certainly picked a unique workshop to attend. It was a three-day high level and informative conversation. Kind of like strolling around New York City chatting with your favorite college philosophy professor…

I'm a veteran of at least twenty workshops in the past ten years. The scary thing about workshops is you really don't know what you've gotten yourself into until you are deep into it, and of course by then it's too late to do anything about it… 

This Overgaard New York Workshop was a gem."

– D. C. (Professional Portrait Photographer, USA)
If you have questions, don't hesitate to e-mail am@overgaard.dk for further info.
Event Host:
Thorsten von Overgaard Masterclass Workshops for Leica Users and Digital Photographers
View Event Host's Profile
View all events
by Thorsten von Overgaard Masterclass Workshops for Leica Users and Digital Photographers
Share this page via: